Spices & Herbs

USD($)

USD - US Dollar
CAD - Canadian Dollar
GBP - British Pound
AUD - Australian Dollar
EUR - Euro

en
🎉 Hey, you have free shipping in the USA!
Vanilla Beans
Jacqueline Oliver - United States
I'm a convert
Beth Borchers
High Quality Vanilla - excellent customer service.
Brigitte Oger
Great place to get your spices
Don Young
Gourmet Mexican Vanilla Beans, Grade A Planifolia
Premium quality vanilla beans from the birthplace of vanilla
In stock Free Shipping

Free Shipping to all USA orders.
Vanilla Beans
Jacqueline Oliver - United States
I'm a convert
Beth Borchers
High Quality Vanilla - excellent customer service.
Brigitte Oger
Great place to get your spices
Don Young
Enjoy Rich, Bold Gourmet Mexican Vanilla Beans From the Birthplace of Vanilla
Buy vanilla from Mexico, the country of origin for all vanilla beans. The Totonacs of Veracruz are known as one of the first people to harvest and use vanilla beans. Vanilla was a sacred herb with an honored place in ritual offerings. It was also used as a perfume and for medicinal purposes, but it was not commonly used as a flavoring.
The Aztec Empire conquered the Totonacs in the 1400s. The use of chocolate in beverages began with the Aztecs, and they were the first people to create a delicious drink from vanilla beans as well. Xocohotl was a rich beverage created with a combination of chocolate and vanilla.
How Vanilla Became A Favorite Spice Worldwide
Mexico remained the only source of vanilla until the late 1800s when various explorers began exporting the plants to other countries. The first attempts to uproot and transfer vanilla plants didn't end well. Botanists were puzzled until they realized that the milipona bees, found only in Mexico, were the main pollinators for vanilla flowers. Vanilla beans were finally grown in other locations when one person realized that a bamboo shoot could be used to pollinate flowers by hand.
Cultivation and Harvesting
Properties of Our Gourmet Mexican Vanilla Beans
How To Prepare Vanilla Beans
Although vanilla beans have evolved since they were first discovered and exported, beans from Mexico are still quite close to the flavors of the original beans. The quality of a vanilla bean depends on the skills and methods used to cultivate, harvest, and cure the beans and pods. Vanilla is actually a type of orchid, and the plant is known as one of the most labor-intensive commercial crops.
Vanilla plants are cultivated and harvested by hand. Producers in Mexico wait nine months after pollination before harvesting vanilla beans. They remove the green to yellow pods from the plants once ripe ,long after the flowers have died. Traditionally Mexican vanilla bean pods were laid out in the hot days sun to dry for an average of 20 days, which also allows the pods to begin fermenting.
Modern producers now rarely use the traditional approach to curing and more commonly rely on water killing of vanilla beans to jump start the fermentation process of sweating, drying and conditioning.
Bean Length: 5 to 7 inches
Color: Dark Brown to black
Moisture Content: 25-30%
Flavor: Bold, Sweet, Spicy,
Gourmet/Grade A/Prime
Mexican Vanilla Bean Flavor Profile
Although Mexico and Madagascar both grow Planifolia vanilla beans, there are flavor differences. Mexican vanilla beans have a complex flavor profile that tends to be mellower and smoother than Madagascar vanilla beans. Vanilla beans grown in Mexico range from a classic spectrum of sweet, creamy, smooth caramel flavors to rich, deep woody notes similar to nutmeg or clove.
The beans contain almost 200 volatile compounds. Vanillin is the strongest and most easily recognized compound, but the other 130 compounds and approximately 50 aromatic substances are responsible for the tantalizing mix of flavors the Mexican vanilla bean is known for.
A toasted, spice heavy aroma with hints of rum and dried fruit adds nuance, and the bean is known for adding notes of cinnamon, cocoa, raisin, and tamarind to foods and beverages. Both the beans and seeds infuse enduring flavor into extracts.
Suggested use for Foods and Beverages
Make pure vanilla extract or simply use the fresh vanilla bean pods in your favorite recipes. The robust flavor of Mexican vanilla beans excels in rich dessert recipes, such as cheesecakes, sweet breads, chocolate confections, custards, ice creams and crème brulee.
Mexican vanilla beans also pair well with citrus fruits, spicy salsas, and barbecue sauces. These beans enhance ginger snaps and other spiced cookie varieties. Mixed drinks, such as spiced cocktails and margaritas, are also enhanced by rich vanilla flavor.
The beans and pods contain flavor, so try to use every part to get the best value from your purchase. Use the tip of a sharp knife to open a thin slit in the center of the bean pod. Gently open the bod to expose seeds and scrape from the middle on on one side. Carefully scrape the sticky seeds off the knife blade into a clean container.
Repeat the process starting from the center on the other side of the pod. The beans should be moist and pliable with a strong aroma. Beams used for extracts and infusions can be reused if they still retain their aroma.
How to store vanilla beans
Wrap beans in wax paper or plastic wrap and store them in an airtight container. Squeeze air out of the container so beans don't dry out. Store vanilla beans in a cool, dark place. Air the beans regular by removing them from the container every 4 to 6 weeks and let air circulate for 10 to 15 minutes.
Properly stored vanilla beans may last up to two years, although it's best to use beans within 1-3 months
Frequently Asked Questions
Mexican vanilla beans are vanilla beans that have been grown, harvested, and cured in Mexico. Traditionally, they are harvested around the Veracruz, Huesteca, and Puebla areas. Mexican vanilla beans are said to be the original vanilla beans. Many historians record the birthplace of vanilla as Mexico, first being used by the Totonac Indians. Mexican vanilla beans generally come from vanilla orchid planifolia or the lesser-known vanilla pompona. The taste of these vanilla beans ranges from a classic spectrum of sweet, creamy, smooth caramel flavors to rich, deep woody notes similar to nutmeg or clove.
Generally, vanilla is a spice derived from the fruit of an orchid. Mexican vanilla is derived from the fruit of an orichid, traditionally vanilla planifolia or vanilla pompona, that is grown, harvested, and cured in Mexico specifically. In the past, Mexican vanilla went through a specific curing process using only the sun to kill the vanilla bean. While this practice is still used sparingly, most growers and prepares in Mexico now use a water-killing process. The water-killing method is also commonly used in other vanilla growing regions such as Madagascar, Uganda, Papua New Guinea, Indonesia, and more.
You can buy Mexican vanilla beans from Slofoodgroup directly on our website. All Slofoodgroup vanilla products are made from authentic, high-quality vanilla beans.
All of our vanilla, including our Mexican vanilla beans grown and cured in Mexico, is Coumarin Free. Vanilla containing coumarin is generally a liquid-based vanilla product falsely marketed as Mexican vanilla extract, Mexican vanilla and other possible terms. If you are considering purchasing liquid vanilla products, please consult the product ingredients label to ensure you are only purchasing a pure vanilla extract. Pure vanilla extracts should only contain 35% alcohol by volume, vanilla beans extractives, and the optional ingredient of sugar or other sweetening agents as authorized by the standard of identity for pure vanilla extract.
When buying Mexican vanilla, you should always look at the grade of vanilla bean best suited for what you intend to do. If you want to use it for baking or making vanilla extract, then a gourmet vanilla bean will do just fine. Gourmet vanilla beans have a slightly higher moisture content, which makes it easy to split, scrape, and chop your vanilla bean. Grade B vanilla beans tend to be more suited to making vanilla extract due to their low moisture content, and at times, physical blemishes or deformities. Most importantly, make sure your vanilla smells good. Mexican vanilla smells quite similar to Mexican chocolate.
The taste of Mexican vanilla beans ranges from a classic spectrum of sweet, creamy, smooth caramel flavors to rich, deep woody notes similar to nutmeg or clove. When added to foods and beverages, these vanilla beans can add notes of cinnamon, cocoa, raisin, and tamarind.
Customer Reviews
Customer Photos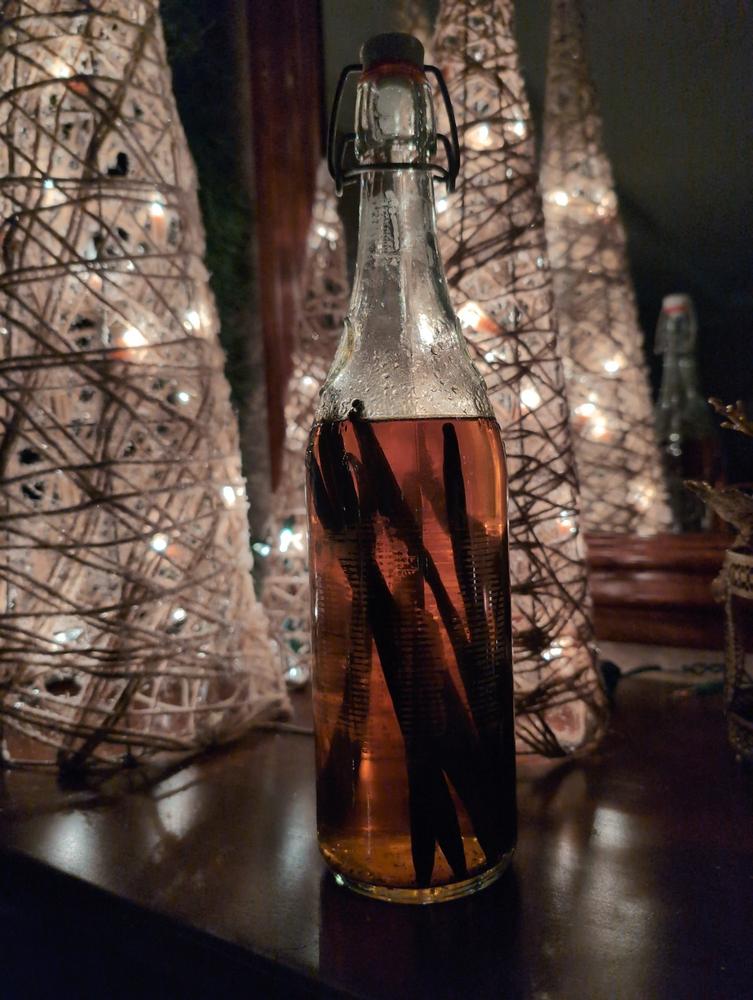 i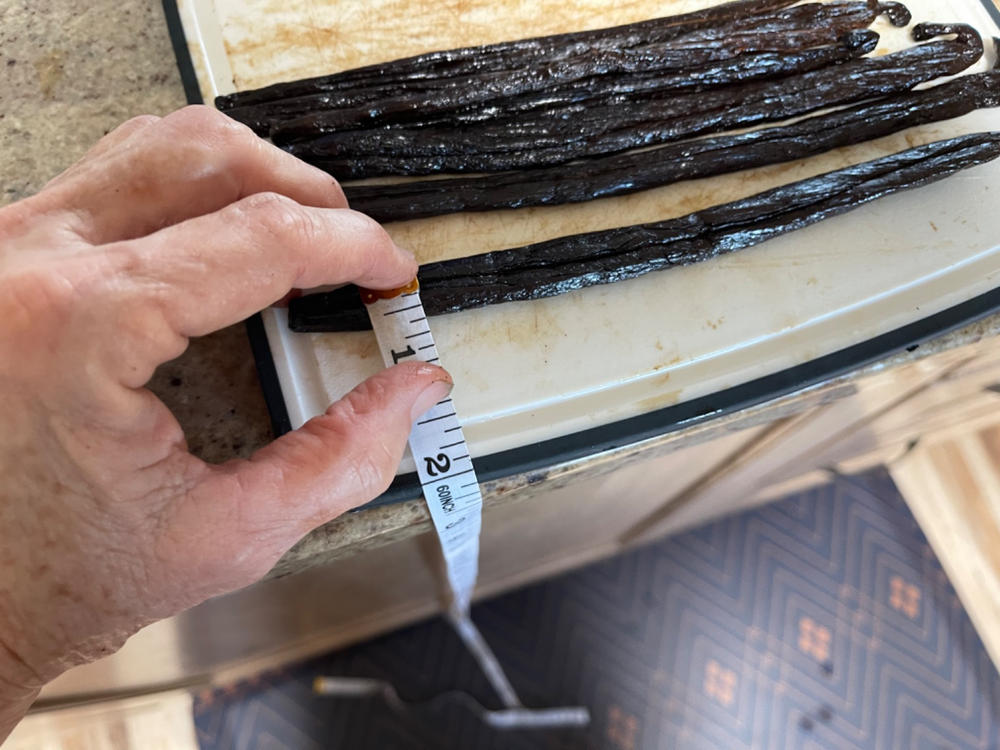 i
Write a Review
Ask a Question