🎉 Hey, you have free shipping in the USA!
Vanilla Beans
Jacqueline Oliver - United States
I'm a convert
Beth Borchers
High Quality Vanilla - excellent customer service.
Brigitte Oger
Great place to get your spices
Don Young
Ceylon Cinnamon Sticks, Sri Lankan
Cinnamon sticks from the land of Ceylon
In stock Free Shipping

Free Shipping to all USA orders.
Vanilla Beans
Jacqueline Oliver - United States
I'm a convert
Beth Borchers
High Quality Vanilla - excellent customer service.
Brigitte Oger
Great place to get your spices
Don Young
Discover True Ceylon Cinnamon Sticks Online
Sri Lankan cinnamon, or Ceylon cinnamon, is often referred to by the monikers true cinnamon and sweet cinnamon because of the historical presence and flavor profile that differs from the more common, Cassia cinnamon. While of the same genus, Cinnamomum, cassia bark. has a much harsher taste than its (in our opinion, far superior) Ceylon cousin. For the sake of trade and purchase today, all species are considered cinnamon, but as per its original Latin origins, true cinnamon is the scientific literal translation of cinnamon bark derived from the Cinnamomum Verum tree. Sri Lankan cinnamon sticks, while less common and more expensive, are favored by Pastry Chefs in Europe for their soft, delicate, and clean cinnamon flavor. A large difference between Ceylon cinnamon quills and Cassia cinnamon sticks is that the Ceylon variety is filled like a fine cigar. The flesh is soft and brittle and easily broken by hand, whereas Cassia cinnamon or Cassia bark is hardier and woodier and do not break easily. This particular organic inspired cinnamon quills come from the fertile soils of Sri Lankan is a C5-special grade grown using natural and organic practices.. The finest, and second most sought-after grade besides Alba cinnamon. Looking for Ceylon cinnamon powder instead? You can find it here..
*this product is not organically certified and no claim is made to such certification. Organic certification program are third -party audits and required for use of organic certifiers trademark that is licensed from the USDA.. These programs are not always sustainable for small share holder or family organizations. All current partners engage in natural and organic based farming practices methods for the best holistic and specialty ingredients we can offer.
What You Can Expect When You Buy Ceylon Cinnamon Sticks from Slofoodgroup:
How is Ceylon Cinnamon Produced?
How to Use Ceylon Cinnamon Sticks?
Cinnamon is sourced from the bark of various species of the genus Cinnamomum. Most Cinnamomum is tree-farmed in Indonesia, China, and Vietnam, and much of Asia, though less often in the latter region. This particular cinnamon comes from the Cinnamomum Verum tree and is the one true cinnamon. It is sourced from Sri Lanka, formerly known as the colony of Ceylon, taste and see the difference, you'll likely never go back to the Cassia variety.
Whether you buy Ceylon cinnamon sticks in small amounts or bulk quantities, you'll receive your delivery of premium cinnamon sticks swiftly and, for domestic orders, we'll cover shipping costs.
C-5 Special grade cinnamon sticks, the highest-quality of cinnamon in the world, prized by bakers everywhere. Alba grade cinnamon quills have little to no foxing, meaning there are no blemishes caused by excessive moisture and will be thinner than other grades of Ceylon cinnamon quills.
Ceylon cinnamon contains far less coumarin than Cassia cinnamon. Coumarin is a naturally-derived flavoring substance that can be toxic in large quantities.
These premium Ceylon cinnamon sticks are cut to 5-inches and have a uniform thickness.
SloFoodGroup products are always all natural, gluten-free, and non-GMO.
Our Ceylon Cinnamon sticks have been certified kosher by EarthKosher.
A tree is grown and nurtured for about 2 years at which point it is chopped down to a stump. After a short time, dozens of small shoots spring up from the stump. The shoots are allowed to mature and thicken to about two inches in diameter. After the green outer bark is then shaved off and the inner bark is struck evenly and bruised until it releases from the heart of the wood. This inner bark is removed in large sheets, cut into strips, and air-dried. These strips are then curled into quills of cinnamon that are further dried in ovens or by baking outside under the sun. After achieving a sufficient "tan", the quills are sent on their way around the world, where they are prized by bakers, culinary enthusiasts, and holistic healers.
Sri Lankan cinnamon, aka: Ceylon cinnamon, is smooth and aromatic with hints of citrus, sugar, and butter. It's known for being sweeter and more subtle than other varieties of cinnamon. That complex aroma is a perfect all-purpose cinnamon for using in curries, stews, and a wide assortment of pastries. Try dusting over oatmeal or mixing with sugar on buttered toast. We highly recommend using this cinnamon in the Mexican rice milk drink, horchata, or in the English favorite, eggnog. Or, try it our recipe for a mango vegan ice cream!
Frequently Asked Questions
Ceylon sticks are currently available for purchase at Slofoodgroup.
Ceylon cinnamon is often referred to as true cinnamon or sweet cinnamon. It is much less common and of higher quality than Cassia cinnamon. Cassia cinnamon sticks are stiff, woody, and have one layer, while Ceylon sticks are very fragile and have many layers. Ceylon cinnamon's flavor is sweeter and more delicate than cassia cinnamon's stronger and spicier notes.
Saigon cinnamon is a species of Cassia cinnamon with a stronger flavor and aroma. Saigon cinnamon has a high concentration of oils and a more pungent flavor than Ceylon cinnamon.
Unlike Cassia cinnamon, Ceylon cinnamon has a very low amount of coumarin. This amount makes frequent consumption of Ceylon cinnamon much safer. It has been safely used in doses of 0.5-3 grams daily for up to 6 months. However, it can be unsafe to consume in larger amounts or when used long-term
Roughly 4-5 sticks +- depending on the grade of cinnamon and length. Each stick has natural variations in size, shape, and uniformity, so you should not take this number literally, as one ounce is a weighted measure and has nothing to do with a count. It is solely sold by weight.
Customer Reviews
Customer Photos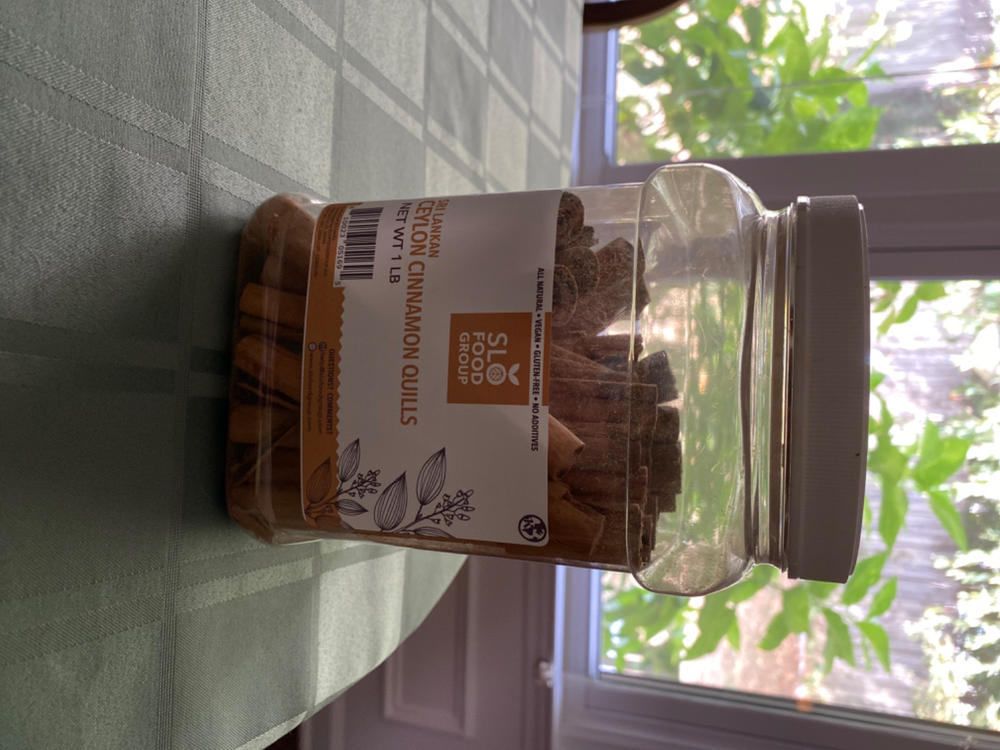 i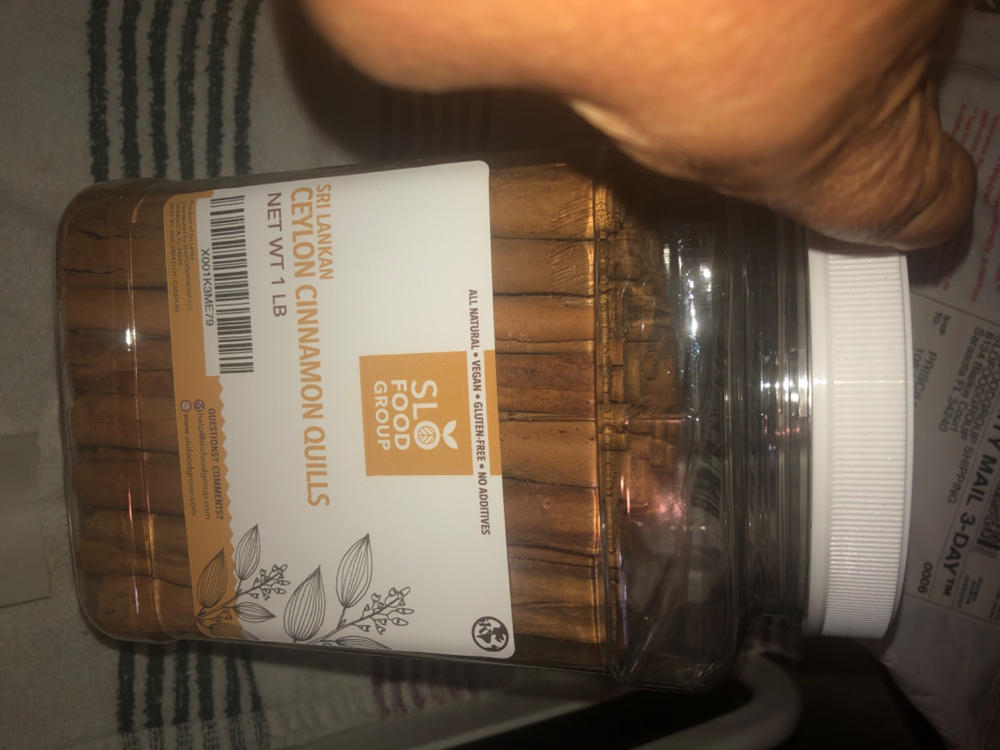 i
Write a Review
Ask a Question