🎉 Hey, you have free shipping in the USA!
Vanilla Beans
Jacqueline Oliver - United States
I'm a convert
Beth Borchers
High Quality Vanilla - excellent customer service.
Brigitte Oger
Great place to get your spices
Don Young
Pure Vanilla Extract
We have taken some of the worlds finest vanilla beans and put them in a bottle just for you
Sale
$ 159.00 $ 194.00
Save 18%
(-$ 35.00)
In stock Free Shipping

Free Shipping to all USA orders.
Vanilla Beans
Jacqueline Oliver - United States
I'm a convert
Beth Borchers
High Quality Vanilla - excellent customer service.
Brigitte Oger
Great place to get your spices
Don Young
Pure Vanilla Extract Made From Premium Vanilla Beans
Slofoodgroup pure vanilla extract is composed of a blend of high-quality vanilla beans from some of the top vanilla producers in the world. Unlike many store-bought vanilla extracts, this is a real vanilla extract, and you can taste the difference. This single fold vanilla extract is dark, creamy, rich, and incredibly fragrant. Vanilla extract is made from extract grade vanilla beans, which often contain splits and cracks. The lower moisture content in these beans means the vanilla flavor is extremely concentrated, making them perfect for long infusion processes like making real vanilla extract. Ours is made from only the finest vanilla beans and aged a minimum of 180 days, then lightly filtered, and bottled in an air-tight container.
Why Our Pure Vanilla Extract is Superior to Other Vanilla Extract
How to Enhance Recipes with Pure Vanilla Extract
Pure vanilla extract is exceptional in absolutely every recipe that calls for vanilla. Try it in a side-by-side taste test with the vanilla 'flavored' alternative and you'll see why the real thing is far superior! The use of vanilla extract is the most common method of infusing recipes with the prized flavor of vanilla beans. It is used in both cooking and baking recipes worldwide in place of vanilla beans because it is much easier to keep on hand, is quicker to use, and it stores better.

This particular blend of pure, single fold vanilla extract is composed of some of the best vanilla beans from around the world. It is suitable for enhancing any recipe that calls for vanilla extract.
Vanilla extract, when pure, flavors any recipe exceptionally well on its own but it can also be used to complement the use of vanilla beans or vanilla powder in any recipe, adding an extra vanilla essence. You will absolutely love the results!

Consider using this real vanilla extract as a flavor addition for holiday gifts for friends or family. The most common uses include an array of baked goods, such as cookies, scone, and other pastries; but we love it in flavored beverages such as teas, cocktails, or eggnog, and an assortment of other desserts, such as ice cream, gelato, buttercreams (salivating yet?).

We think our pure vanilla extract is phenomenal but understand if you'd rather make your own. Here's a great recipe for making real vanilla extract with rum, bourbon, or traditionally with vodka! Start with Grade B Vanilla Beans and put them in these lovely extract bottles!

*As is true for our full line of vanilla extract, this variety has been certified kosher by a reputable kosher certification agency.
Pure vanilla extract contains water, alochol 35%, vanilla beans extractives and organic cane sugar (less than two grams per gallon by volume)
Slofoodgroup offers free standard shipping, every day on all products. Spend less time searching for a great product and shop with confidence with us online. Whether you need just a pinch saffron or more than a pound of vanilla beans, all of our products ship free!
Frequently Asked Questions
Vanilla extract has an indefinite shelf life since it is made with alcohol. Simply store in your cupboard or pantry out of direct sunlight and your vanilla extract will remain good for years on end.
Yes. In fact, the FDA requires an alcohol content of at least 35% for a product to be considered vanilla extract or extract of vanilla beans. A product that does not contain alcohol is technically speaking, is a vanilla alternative, vanilla flavoring or other names may be used. When making vanilla extract, select a base alcohol such as vodka, rum, bourbon, or brandy that is 70 proof.
To make vanilla extract you will need approximately .83 ounces of vanilla beans ( 7-10 vanilla beans one average ) to every one cup alcohol. ​Our recommendation is to follow the weighted measure for consistency as this compensates for natural size and shape variations in vanilla beans and is inline with the Food and Drug Administrations standard of identity for vanilla extract.
Customer Reviews
Customer Photos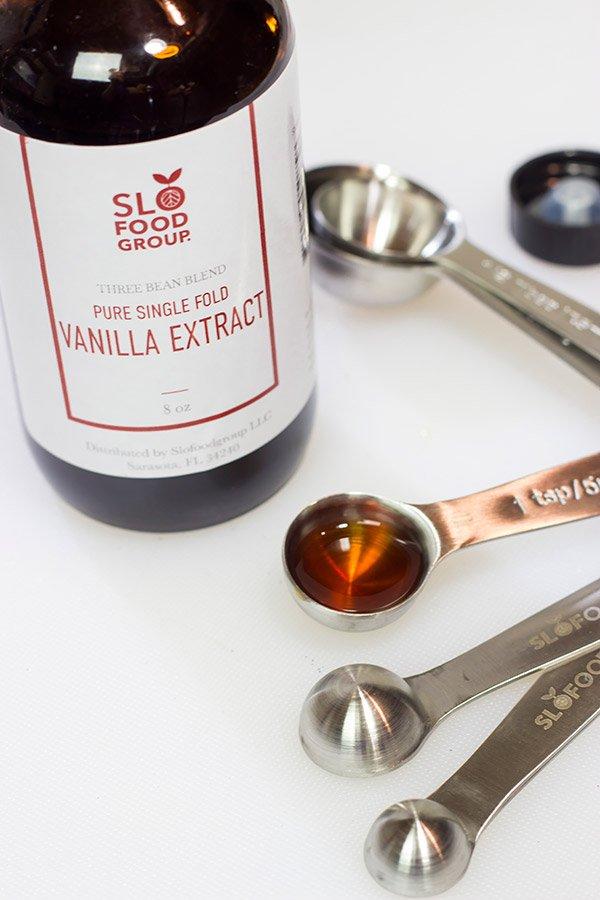 i
Write a Review
Ask a Question